An award to my "cursus vitae" and the awareness of me
"In her study years, she experimented the way of photographic art, specializing at an international level and promoting a new approach that combines images with literature, making her an important protagonist of modern cultural life". Certificate of merit conferred to Manuela Masciadri.
A few days ago, I returned to Como, my hometown, to receive an award. This is a certificate of merit, attributed every year to those who "particularly distinguished themselves in their cursus vitae".
When I was notified about this, I experienced mixed feelings.
I left Como in my early twenties, and I just kept sporadic relationships. The years of my adolescence have put me to the test: my self-esteem was almost non-existent, I felt transparent, to the point that people spoke to each other in my presence, as if I were elsewhere. I blushed if someone spoke to me, every conversation was started with the intention of finishing it as soon as possible, and my answers to the questions were articulated on the basis of what I believed my interlocutors would expect from me, rather than on the basis of what I really thought and felt, hiding under the certainty of not being enough.
My world was self-referential and solipsistic, made mostly of read books, written words, and alienating images of other people's lives.
The moment when I got to know about this award, I think it was like for Proust when he tasted his madeleine: for a moment I had the perception of me as I was then – a small broken shell in his little room. I sensed the space around me and that feeling of emptiness and insecurity as they were present and real. It lasted for a moment. In a heartbeat I came back to my present full of love, passion, joy and dreams that are being realized.
What I won is a very special prize: the awareness of who I am.
How I was and how I managed to become, all the moments I've been through, the risks I ran, the falls from which it seemed impossible to get back up and the perseverance (or survival instinct) that led me to continue, always and in any case, to build something beautiful, great and meaningful.
Photography has been therapeutic: starting to take pictures, I started looking out of me, watching and listening to people, thus allowing others to look at me, externally and internally, to the point where, on a stage with a microphone in my hand, today I feel proud, safe and happy.
Choosing to combine writing with photographs, I somehow connected the dots of my life, making coexist the things I've always been passionate about, things that somehow saved me and that represent my communication and expression channels: images and words.
This recognition, specifically given to the "cursus vitae", has strengthened in me the feeling that the path I have chosen makes sense and that anyone can choose to be the person he wants, changing what in his life does not make him happy.
It's great to feel gratified by ourselves, and it's beautiful and proactive to share this feeling.
Ad maiora.
"A work of art is good if it has arisen out of necessity. If your daily life seems poor, do not blame it; blame yourself, tell yourself that you are not poet enough to call forth its riches". R.M. Rilke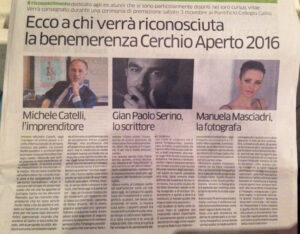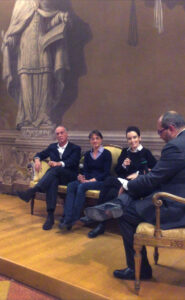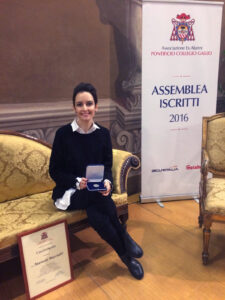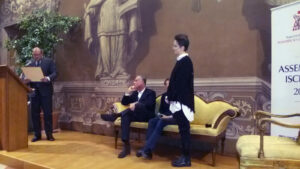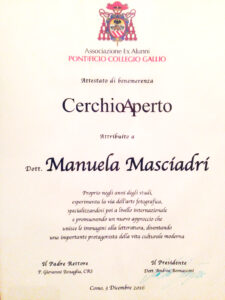 ---