Once upon a time there was a jewelry designer. A figure self absorbed in his creative space, whose work was primarily to build his own stylistic identity, do research, experiment and find a commercial space to sell his creations.
The profession was characterized by some kind of detachment between the intimacy of the mental projections and sociability of the crowd outside.
Today this is not enough.
"A designer must have creative, productive and technological skills. The fantasy alone is not enough and it is essential that the designer understands and is familiar with the context in which his project takes place", pointed out Alba Cappellieri during our meeting a few months ago. (You can read the article here) Telling a story, having the ability to involve the public in your own personal and brand's growth – this is what makes a difference today.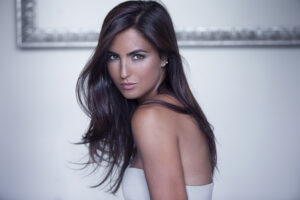 Maria Vittoria Paolillo is a 26 years old jewelry designer coming from a family of jewellers, which has loaded her with expectations, as well as inspiration and knowledge.
She welcomes us in her family's house in Rome, a house full of past and experience, which puts even more emphasis on how Maria Vittoria was able to go beyond that historical load (she asks us to call her Viki), and to build not only an independent and contemporary personality, but also an innovative and creative brand.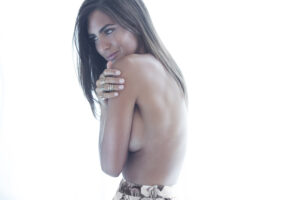 From the beginning of her career, a little less than five years ago, after the studies in gemology, Viki created her own brand MVP, distancing herself from the field of high jewelry, in which her family operates, producing a fashion line, characterized by materials such as silver and bronze.
Viki's father does not approve this choice and chooses, initially, not to support her.
Viki makes mistakes, typical of those who bravely risk, bringing into play the self-confidence. After the first collection "gone wrong for lack of experience in the fashion industry," as she tells us herself, she is happy now that she made those mistakes.
From that experience she understands more deeply the importance of the trends of the moment, the market and, the most important aspect – that it is crucial to put her own personality into her creations in order to make them unique, to give them a soul.
"From those mistakes I understood who I am. I tried to put in my creations my personality: very precise and schematic in everything, even in life."
In this way the first design experiments were born, inspired by geometric forms, that evolved into what's Viki's trademark today: the rings for all 5 fingers, with different shapes, very elegant and sophisticated forms and often inspired by cages.
"I wanted to create something that completes the look."
Only later, continuing the elaboration of geometric elements, the pieces get embellished with precious stones.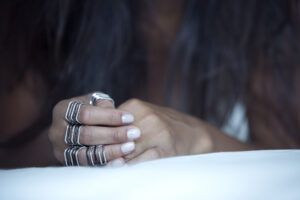 And it works: Viki appears in leading publications, she is interviewed by national television and is invited to prestigious events, not only in the jewelry industry, as the last edition of the Venice Film Festival.
This is because the intuition of Viki, after the awareness of her stylistic identity, was to abandon the traditional vision of "workshop" and invest in her web image, showing herself to the world.
Viki opens an Instagram account that after a bit more than a year has more than 40,000 followers, making increase the sales by 70% and opening her a global showcase to the fashion world.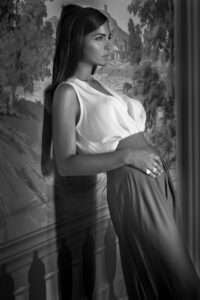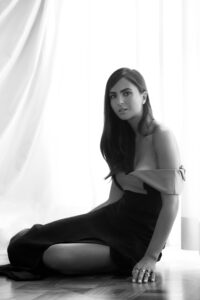 These are all the aspects that must have convinced the Trussardi team to ask Viki to design the jewelry that embellished the models during their SS 2017 runway show at the Milan Fashion Week.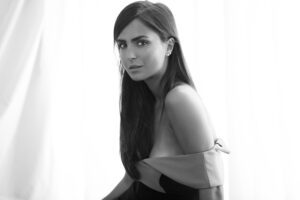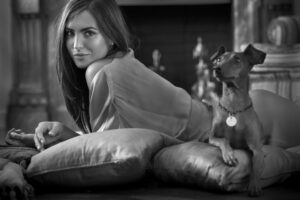 Telling us, honestly and without filters, about her life and growth, Viki realizes that more than an hour passed without posting anything on Instagram.
"Yeah, it went well. I've completely forgot."
Viki posts several times a day, "pauses from social" do not exist for her.
"I see myself from the outside and I think it is difficult. But more I work on my image, the more I sell my products.  Mostly while doing this you live situations to tell them and not to live them. Some people think that I'm living a fake life. The truth is that now I'm creating my future career, then we'll see how it all turns out ".
On the contrary what I perceive is having in front of me a young woman who has found her own path, making the most of it, consciously and creatively, taking advantage of the potential that this historic moment offers, with determination and creativity.
"Now my dad is my greatest support." And I think this has very little to do with fake.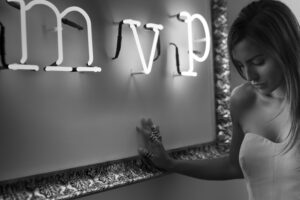 Photo & Words by Manuela Masciadri for  BIRIK BUTIK
Model: Maria Vittoria Paolillo
Make Up & Hair: Alessandra Appio
Backstage Foto e Video: Camilla Giulia Fortunato