"Being a photographer is a personal matter. When it is not like this, the results are not convincing. If we cannot find the photographer inside the photograph, what we see does not differ from the product of an anonymous machine, capable of happy consequences, but not of an answer to form" (Robert Adams).
I meet Stefano at the bus station of Bologna. He chooses the place, explaining to me how fascinated he is by its old, timeless atmosphere, by the shop signs which have been motionless and unchanged for 40 years and which will be motionless and unchanged for the next 30 ones. The station is also a passage, a crossway of people and lives. He explains to me he is in a perennial state of positive agitation that keeps him awake and pushes him to do things and to have his heart beating fast.
Now I understand why his mother used to call him "a tormented soul". "I must try to find all that I might otherwise lose".
It's paradoxical and interesting to notice how, through his photographs and his films, there shows on the contrary a sensation of calm, silence, attention to details and respect for places and time. As if the contemplation of what is beautiful to his eyes, were enveloped by an aura of melancholy rapture, which needs care, peace and solitude to be understood and communicated. Stefano loves his solitude; feeling "alone among other people", hidden and protected by his camera, allows him to have a deeper and more intimate vision of the world.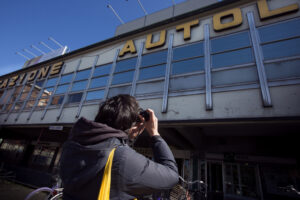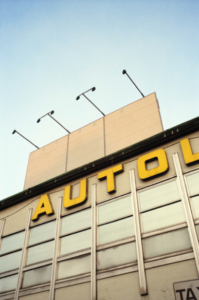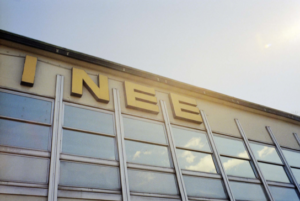 ©StefanoGalli                                ©StefanoGalli
Behind every click there's the personal baggage of thoughts and memories of those who look.
For Stefano there's his childhood spent among the cars in Modena, his friends skaters, his university degree in cinema in Turin, his move to Copenhagen to join Lars Von Trirer – a genius and a beautiful person –   he tells me. Then there's London. There's Los Angeles, a city he loves and in which he lives and works today. There are the hours spent getting totally lost in the lives of the artists, to know every professional and personal detail, to understand their evolution. To draw inspiration from them, to learn, to find a meaning.
Stefano is a photographer who also makes videos. They look like photographs. The approach to shooting is always photographic: shooting is made with the help of a tripod in frames looking like pictures. Inside these pictures characters move and are described through sounds and visual suggestions. Stefano's dream is to publish books. He dreams that one day someone will say "luckily Stefano Galli has taken these pictures so that we can see what Los Angeles looked like in the 2000s or what Bologna looked like in 2015″.
What we expect from an artist's sensibility is a sign, an intuition, a direction, a suggestion helping us to understand the world. "What I see is beautiful, and like all beautiful things deserve being immortalised. Taking pictures is a way to pay homage to them".
There's charm and respect in his work that make people trust him. We can see that in his portraits, or in his docu-film Lamerica, where he explains America through the Americans, in a trip across 24 states, with only a 16mm film.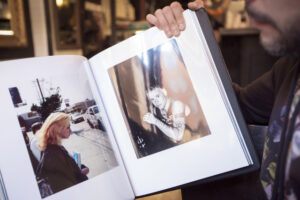 I think it's like returning a favour: we understand and learn from someone who has taken a risk in the first person, has digged into his perception to tell us the essence of the world from his viewpoint. A good way to thank him is to do the same for those who will come after us.
Stefano tells me he has taken risks since the day he got his university degree. " The greatest risk is working as a photographer every day: the only certain thing is uncertainty". Above all he has risked in the last year, devoting himself more to his personal projects than to commercial work. I met him a few months ago and now I meet him again at the Cinema festival in Turin, with one of his personal projects: he is being interviewed by famous magazines and invited by international agencies, to talk about his work.
And I remember why I've always had the visceral need to go deeply into personal visions of reality; artists' lives which tell about their personal visions of the world thus contributing to its human, artistic and spiritual growth. It's unbelievable how our instinct, if lived with honesty, courage, perseverance and without fears and conditionings, can make us live the dream of a life full of meaning.
I am writing these lines while watching, and listening to his 80 Skies (The Video) and Stillness. And I remember how an interesting point of view about a banal object can make the same object beautiful. I have the same sensation when I watch his series of cars, or his American landscapes. Maybe his will to tell us about common objects comes from the vision of life of his father, a doctor, while the aura of fascinating decadence in which Stefano wraps them up is the inheritance of his mother, a painter.
A harmony of pragmatic and emotional elements realized with apparent ease makes his work important. And lastly, what really matters for Stefano, is to reveal the beauty of truth.
Artists do art for a reason: to witness and document the "splendour", the absolute light of beauty. And only beauty, even if painful at times, cures.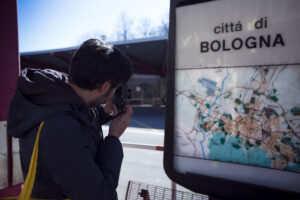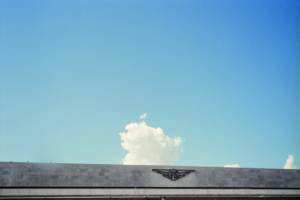 ©StefanoGalli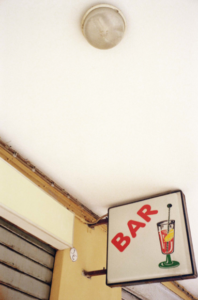 ©StefanoGalli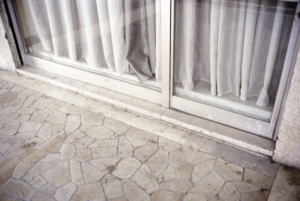 ©StefanoGalli
" If I were still, if I didn't walk around, if I didn't observe nor look at anything; I would go crazy" Stefano Galli.

"I'd like to find something which has as much sense as simple looking" Theodore Roethke.