An authoritative view on contemporary jewellery
The motto of Alba Cappellieri is "Festìna Lente". It's a Latin expression, which lets to coexist two concepts, divergent, but complementary at the same time: speed and slowness. Literally: "Hurry slowly."
It enhances therefore a way of being, of living and acting in a safe and concrete way, projected to action and creating opportunities, even though with caution and slowness which is necessary to reflect and savor every moment of fulfilling existence.
Alba has created a lot of opportunities in her life, which allowed her to become a versatile and essential character of the contemporary jewellery scene.
She is an architect and a professor at the Faculty of Design at Politecnico di Milano, where she is responsible for the Jewellery Design Lab and holds a Course of Jewellery Design.
She is an author of several books, defined imperative on the change of perception of the jewel. She is also a curator of exhibitions.
And that's where we meet – at "Brilliant", an exhibition that focuses on "The future of the Italian jewel", curated by Alba at La Triennale di Milano.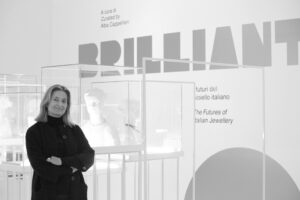 Alba is very busy: journalists and special guests await beyond the red cords, while she lets us in to preview the exhibition's set up which is classy and contemporary at the same time. Elegant and surreal, in a play of glass and light, creating a dreamlike and evocative atmosphere.
In this moment "festìna" prevails on "lente", giving us a chance to make some shots and have a brief chat.
Alba officially opens the exhibition, and welcomes the guests – she is attentive, smiling and full of enthusiasm.
We explain to her that this conversation opens our column Conversations, which will involve interesting figures of the international Contemporary Jewellery scene.
And we are sure that Alba Cappellieri, being multifaceted and authoritative person in this sector, can provide interesting insights for designers, emerging and established ones.
She joyfully accepts to tell us more via email.
How should an emerging designer aproach the market today?
AC: Nowadays a designer must have creative, productive and technological skills. The only "imagination" is not enough and it is essential that a designer understands and is familiar with the context in which his project takes place, philosophy behind the business, production techniques and materials, distribution and communication logics.
A designer needs to know the whole life cycle of the product, and be able to manage it for a future innovation.
In an era of excessive materialism we do not need just more things but we tend to buy only those things that are capable to tell a story and move us. Therefore, a designer has to enrich his project with intangible values that go beyond the preciousness of materials.
I like to think of a designer as a Janus Bifrons figure holding together the past and the future,  tradition and new technologies.
The designer is not an inventor or a scientist, and should not create exnovo but mix already known elements without any relationship. The project of relations today is one of the most interesting challenges for a designer.
What is a system to connect designers with buyers? What do you think of the trade shows?
AC: The distribution is a real problem for a designer today, especially in the field of jewellery and accessories. The fairs that provide the real presence of qualified buyers are few and for emerging and independent designers it is very difficult to intercept the market.
I have great confidence in the new open source processes, although it is still early to see the results.
Are there other, new, ways to approach the market in this digital era?
AC: I believe very strongly that the future will be built on digital relations, which will determine new creative and production processes.
For the first time, the real innovations will not affect products but processes. Today the new technologies, especially those additive, allow the designer to get directly to the consumer through the network.
It's a Copernican revolution where finally hands will get close to machines and crafts to technology but in order to make this happen it is essential to know the technologies.
The jewel will be transformed from the approach do it yourself of makers. The digital artisans using the new technologies can be transformed from creators to entrepreneurs and directly manage the entire production process using the network, with clear benefits in terms of time and costs. Just think that the projects will be digital, created ad hoc with 3d modeling software, or purchased from a vast online library, then put into production by robotic machines that thanks to external servers it will be possible to save more than 90% of set-up costs.
The distribution will be organized through direct or indirect ecommerce sites like Shapeways, Amazon, Etsy, where the customers come directly from Google and not through agents. This process of innovation will transform both digital artisans and companies.
Fashion trends: how much importantance do they have? Once a jewel was supposed to last "forever."
AC: There is no single definition of a jewel, and certainly there is no all-purpose jewelry. Precious jewelry, the one meant to last "forever", is radically different from accessory jewelry that, on the contrary, follows fashion trends.
I believe that this dichotomy and this pluralism of contexts are values. Trends help the designers as inspiration and suggestion but then they must have to be customized according to the contexts and not just followed slavishly.
Scouting today: do you think it is possible to encourage buyers to purchase more interesting, unusual creations, bringing the current market to unconventional choices? If so, how?
AC: I think there are two ways: the traditional where you  show the product physically, and, in this case, it is crucial to find the right buyers for the right market through trade fairs or concept stores, on the other hand it is important to stimulate the online presence, building alliances with blogs and with serious large fashion ecommerce portals.
In one of your statements you expressed a wish to your students to never give up. Did you have any moments in your life where you wanted to give up? How did you overcome them?
AC: I had them in the past and I still experience them in present and, with hindsight, I'm glad I had some negative moments because they allowed me to change my skin, change my life, to grow and to put myself to the test.
My goal is to grow as a person and difficulties are a strong incentive for growth. My motto is "festìna lente", which means slowly but inexorably.
You turned 50 a few days ago. For the occasion, you wrote a post on your Facebook: "I would never come back to my 20s for all gold in the world, and I give up willingly to the splendor of the body in favor of awareness of being and wanting to be who I am." What is the awareness you are talking about? What experiences and lifestyle choices you believe have helped you to get that feeling? What would you say now to a twenty year old self?
AC: I consider myself a very lucky woman because I have built the life I wanted and  I have no regrets for the young days, except the muscle tone. It takes time to achieve awareness, but I always tell my students to fight for what makes them happy and not to give up their talent.
Photo & Words by Manuela Masciadri for BIRIK BUTIK